Generally speaking, those of a religious persuasion (omitting obvious and notable exceptions) are not to be numbered amongst those so engaged, either, as these people are often convinced that no further efforts are required to comprehend questions of reality and existence -- they have chosen to adopt fully formed beliefs as handed to them by any of the great number of religious authorities.
But something is happening in our time, something is beginning to erupt in a great civilization changing groundswell, and amongst those most attuned to this something are a great number of nonconformists, dissatisfied with traditional explanations of reality -- whether scientific, religious, or philosophical.
It is from this area that the hazy preliminary outlines of a new and distinctly different global civilization are just beginning to emerge.
Coming Soon! (1888? 2009? 2205? It's just a matter of time.)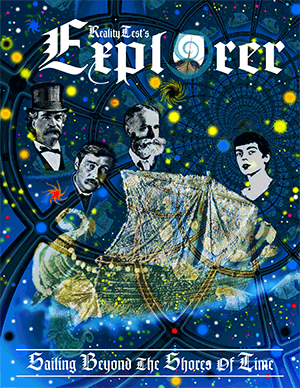 One of these days RealityTest will finally launch Explorer, a collection of writings focused on issues and events of interest to both ardent time travel enthusiasts and devotees of the new civilization beginning to emerge around us.
Explorer will feature essays, articles, reviews, and fiction contributed by a wide variety of writers and correspondents, some long dead (including H.G. Wells and Sam Clemens), some quite alive, and some yet to be born, from our perspective. (The RealityTest Interviews affords readers a glimpse of the nature of this intended publication.) Those sceptical of or disturbed by so called "channelled" writing can relax; none of the writers in question will be even slightly offended if their offerings are treated as a particular kind of creative writing.
Guidance will be provided by C.P. Scott, editor of The Manchester Guardian for 57 years until shortly before his death in 1932. RealityTest believes Scott's assistance will prove invaluable, although Explorer will of course be a far cry from the M.G. -- it will lack both news, in the traditional sense, and views, in the political sense. It will not appear within the regular solar rhythms of a daily newspaper, either, arriving instead on a highly irregular basis in conjunction with unknown and peculiar celestial circumstances.
Scott may sometimes bristle as he views contemporary events and personalities, feeling an occasional urge to pen provocative and Liberal -- in the old sense -- leaders, but death can enable an enlarged perspective, one from which even the most outrageous activities can be seen in a different light. Scott knows, too, that today's world is very different from his in many ways; his 19th-Century Oxford education, Unitarian upbringing, and earnest Liberal-Progressive outlook are seemingly very much out of place -- or, more correctly, out of time -- in the early 21st Century.
Like Wells, Scott was not fond of the occult in his lifetime, but has since gained a new understanding of such matters. Scott can well understand Wells' extreme pessimism just before his death, too, after reviewing world events taking place from 1932 to 1946 (and beyond), but like the discarnate Wells knows that the world of The Change offers optimistic possibilities.
In his well known 1921 "Comment is free, but facts are sacred" thoughts on journalism, Scott wrote: "Neither in what it gives, nor in what it does not give, nor in the mode of presentation, must the unclouded face of Truth suffer wrong." Scott's idealism may be quite difficult to apply to Explorer, considering its subject matter; nevertheless, RealityTest expects Scott's long experience in guiding diverse collections of writers and reporters will provide a necessary backbone for this new publication.
RealityTest, as part of its continuing experiments combining mild trance conditions with Internet interactivity, offers the following missive, posted to a Comment is Free discussion thread following Madeleine Bunting's New Atheism encourages what it disavows blog found here; Comment is Free is part of the guardian.co.uk site, yet another symbol of our rapidly changing mass reality and quite distinct from The Manchester Guardian, once delivered by horse-drawn wagons.
Is this a variation of creative writing, a genuine expression of the mind of Scott, or something else? It has much in common with the examples provided of the channelled Wells, being obtained in a similar way by a different conscious personality. RealityTest will continue to experiment before rendering any firm judgement (if one can even be obtained). In the meantime, it is not offended by those who insist this can only be a form of creative writing. Whatever it is, wherever it issues from, both the process and content provide food for thought; perhaps such utterances will cease to be at all unusual as we continue to move into an era of expansive consciousness.
CPScott

Comment No. 574502

May 10 15:35 USA

I was a newspaperman and neither a scientist nor an atheist; God was a given, while science seemed likely to continue to reveal the secrets of the material universe He had created.

I could call myself a "subpersonality" (one of an unknown but apparently large number), occasionally viewing a very changed world through the eyes (and beliefs) of a conscious mind; a living self part of this changed world.

The situation offers me at times the ability to express myself, although all I write is colored or filtered through this contemporary conscious mind. Our backgrounds and educations, vocabularies, and mental associations are all quite different, so that I cannot quite "sound" like myself -- writing requires cooperation and the result is a kind of blending of two minds.

Details of my own experience are limited. The chief connection is the act of writing itself. (I wrote leaders, year after year; he posted -- and posts -- to Internet sites.)

This discovery came about quite gradually; a key experience was writing with such an intense focus so as to inadvertantly enter a mild trance condition, then noticing, afterwards, that what had seemed like a few minutes had in fact been many hours. The writing itself had an odd Victorian whiff to it, creating a peculiar puzzle for the conscious personality.

For the most part, neither religion nor science offers much of anything in the way of an explanation, while philosophy has been of little help, either.

The investigative activities of, say, Arthur Conan Doyle, never interested me during my lifetime; seances in darkened rooms were never anything I took at all seriously and I simply had no need whatsoever for Spiritualism.

Yet here I am, nevertheless.

I have been forced to conclude that something very significant, very basic, is missing from all officially accepted areas of knowledge, be those scientific, religious, or philosophical, and has been for a very long time.

A great hindrance to discovering what is lost or missing is the incredible hubris attending those who promote any of the officially accepted views.

One is forced to prowl amongst the fringes of knowledge, fringes considered in the large part disreputable and treated with disdain.

Fortunately, I have found old friends in my prowlings; I am not alone. To encounter a familiar mind in such strange cirumstances, one with whom I share experiences of a bygone England and one who became quite intrigued with this odd region -- a place where psychology meets the supernatural -- long before I did, greatly lessens my initial sense of a fearful isolation.

After conferring a bit, I must conclude that we live on the edge of new awakenings, and that what we had supposed we knew, collectively, was really little better than the imaginings of children.

Some humility is called for; our science, our religion, our philosophy, the myths we live by -- these will all become obsolete faster than nearly anyone might imagine.

Regards
(The full text of C.P. Scott's 1921 "Comment is free but facts are sacred" essay, published on the occasion of the centenary of The Manchester Guardian, is found here.)
If you're interested in contributing to Explorer, please send correspondence (including email address) to the address below.

---
RealityTest is edited by Bill I. -- on-line alter-ego of Bill Ingle, an independent provider of business services for management consultants and technology research firms in Boston and London. You may contact RealityTest by writing to:
RealityTest
P.O. Box 5326
Magnolia, MA 01930